My name is Hanne Wöhler. I am 20 years old and graduated from high school in 2021. I spent the last three months for Educations Matters in Uganda, on the outskirts of the capital Kampala and would like to give you an insight into another world with unbelievable experiences.
Together with the two social workers, Vicky and Nadina, who work for Education Matters on site, I took care of about 35 sponsored children during this time. The children are between 8 and 18 years old and attend different schools. In the first weeks, my focus was on school visits and getting to know the children. Twice a week I taught math and English at an elementary school. During the vacations, we organized a two-week summer camp for the sponsored children. At the end of the time I got to know the country and its people through small trips and during a safari different national parks.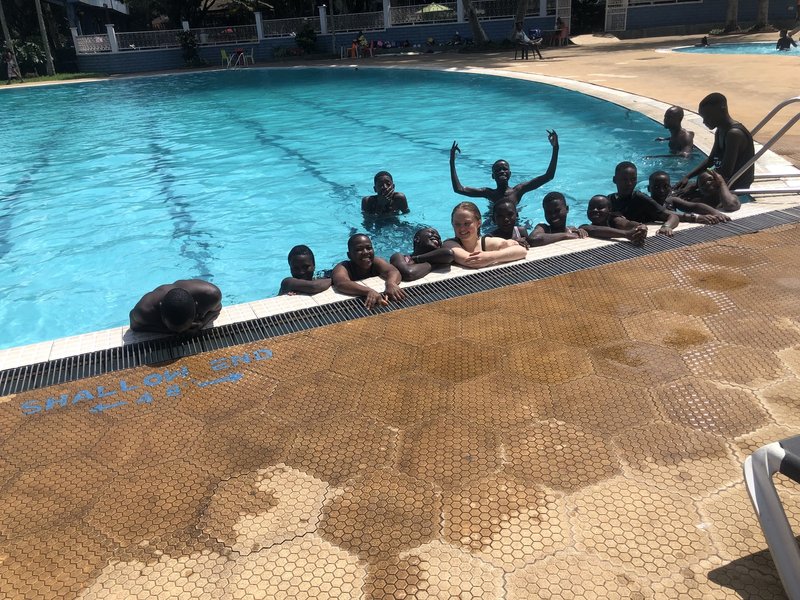 The entry into the other world was intense! I received a very warm welcome in my new home. The first weeks of living together consisted of hours of talking about the cultural differences, learning manual household activities such as washing by hand and getting to know "Ugandan time":
Everything takes longer here. From cooking - which is why dinner is occasionally not eaten until 11 p.m. - to meeting friends. Basically, you can expect to be an hour late, simply because the sense of time is different. Everyone has enough time and doesn't get stressed. That was very challenging for me at the beginning, but in the end it gave me a new perspective and a lot of peace.
A daily routine came to me when I started teaching at the elementary school. Having a group of children in front of me twice a week, always excited to see me and learn new things, was heartwarming. Not only the children, but also the entire staff welcomed me so lovingly and became a little family to me.
A highlight of my time there was the vacation program we organized for the children. Even the planning with Nadina and Vicky was mega fun and complemented my everyday life besides teaching. We planned the activities and meals in advance and then entertained the little ones (8-12) and the big ones (12-17) for a week each.
There was everything from trips to the lake to an internship with a company to German lessons. We cooked a lot together, learned from each other's cultures and played games. What I remember most was the movie night followed by a dance party and eating ice cream until late at night. We exchanged songs and danced. Everyone was so happy, which in turn made me very happy. The other evenings we sat together for a long time and shared stories from our lives.
It was a very intense two weeks!
To be able to give the children this happy and learning-free time with the help of Education Matters, Vicky and Nadina was an insanely beautiful feeling.
Afterwards I toured the country and got to know the breathtaking nature before it was already time to say goodbye.
I visited all the kids again, said goodbye and was also seen off with dances and songs by all the children of "my" elementary school.
My time in Uganda is over, but this time and especially the children with their energy and joy of life have given me a feeling that I will carry with me for a long time.
Diese Seite in Deutsch anzeigen